Posts for tag: root canal treatment
By Willow Ridge Dental Group
January 25, 2021

Dental patients have amazing options for tooth replacement. Dental implants, for example, can replace the entire tooth, root and crown, giving patients a new tooth nearly as good as the old one.
Nearly—but not exact. Even implants can't match the full benefits of a natural tooth, including one in less than perfect shape. Our first goal as dentists, then, is to save a diseased tooth if at all practical before considering replacing it.
That often involves a root canal treatment to address decay threatening a tooth's interior. The procedure requires drilling into the tooth to access its innermost pulp, cleaning out the pulp and root canals, and then filling the empty spaces. Since all dentists are trained in basic root canal treatment, your general dentist may be able to perform it.
But some dental situations call for more advanced endodontics, the dental specialty for treating disease and other problems inside a tooth. So, in what situations would you see an endodontist?
When your dentist refers you. Your dentist wants you to receive the level of treatment necessary to save your tooth. After examination, they may determine your situation would be better served by the advanced training, equipment and techniques (including surgery) of an endodontist.
When your tooth has complications. Patients often need an endodontist when existing factors complicate treatment of advanced tooth decay. A patient may have dental pain that's difficult to pinpoint, requiring the diagnostic resources of an endodontist. It's also common for a tooth's root canal network to be highly intricate, and which respond better to treatment with specialized endodontic tools and techniques.
When root canal treatment fails. Most root canal treatments are successful in protecting the tooth from further infection. That said, it's still possible for a root-canaled tooth to become re-infected or develop more problems. Again, an endodontist and their "tool chest" re-treating a root-canaled tooth may be the best option for saving it.
You also don't have to wait for a referral—you can see an endodontist if you believe they would be best to treat your decayed tooth. You can find one near you by visiting an online endodontist directory at www.aae.org/find. An endodontist may be the lifesaver your diseased tooth needs.
If you would like more information on saving a tooth through endodontic treatment, please contact us or schedule an appointment for a consultation.
By Willow Ridge Dental Group
December 30, 2019
If you are suffering from dental pain, we know that you want relief, and you need it fast! That's why here at Willow Ridge Dental Group in Naperville, IL, your dentists, Drs. Jeffrey and Connie Onik, provide root canal therapy to patients with compromised teeth. Read on to learn how this treatment could end up saving your smile!
What root canal treatment can do for you
You deserve to have a beautiful, complete smile that is free from pain—root canal treatment can help make this a reality. When you have a root canal, it eliminates tooth pain, without the unwelcome event of losing your tooth.
You may need a root canal because you have suffered trauma to your face, jaws, and teeth from an accident or injury. Trauma can happen from common causes as well, such as grinding or clenching your teeth. You may also need a root canal due to severe decay which has penetrated into the inner layer of your tooth, an area called the pulp.
The pulp is the innermost layer of your tooth, where the nerves and blood supply are located. When the pulp becomes bruised or damaged, inflammation begins, causing fluid buildup, pressure, and pain. A damaged pulp can produce painful symptoms like these:
Sharp, stabbing pain when you bite down
Continuous throbbing pain when you chew
Increasing pain when you eat or drink hot or cold foods or beverages
Root canal treatment takes away the inflammation and pain. Your dentist will make a small opening in the top of your tooth to remove the diseased, damaged pulp tissue. A sedative material is placed inside your tooth to allow any inflammation to subside, and your pain to resolve. After your painful symptoms are gone, the sedative material is removed and replaced with an inert material that is left inside your tooth. The opening is then sealed with a permanent filling, and your root canal treatment is complete.
Need care? Give our Naperville dentists a call
Root canal treatment eliminates your pain and saves your smile. To learn more about root canal therapy and other dental services, call Drs. Jeffrey and Connie Onik at Willow Ridge Dental Group in Naperville, IL, today by dialing (630) 420-2800.
By Willow Ridge Dental Group
October 18, 2018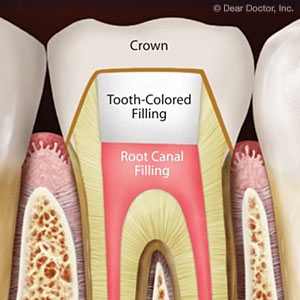 A tooth with deep decay is in real peril. If the disease isn't stopped, it can eventually infect the bone and greatly increase the risk of losing the tooth. But tooth decay removal and a root canal treatment can stop advancing decay and resulting infection in its tracks.
During this common procedure we first drill into the tooth to access the inner pulp. After removing the infected pulp tissue, we disinfect and fill the empty chamber and root canals with gutta percha. We then seal the tooth and crown it to protect against re-infection.
But while most root canals are successful and long-lasting, sometimes the tooth becomes re-infected. Here are 3 factors that could affect the long-term success of a root canal treatment.
Early treatment. Like many health problems, the sooner we detect decay and treat it, the better the outcome. A tooth in which the infection has already advanced beyond the pulp is at greater risk for re-infection than one in which the infection is localized in the pulp. Keeping up your regular dental visits as well as seeing the dentist at the first sign of abnormality—spots on the teeth or pain—can increase your chances of early diagnosis.
Tooth complications. Front teeth with their single roots and canals are much easier to access and treat than a back molar with an intricate root canal network. Root canals can also be extremely narrow making them easy to miss during treatment. In cases like this the expertise and advanced equipment of an endodontist (a specialist in root canal treatment) could help increase the odds of success in complex situations.
The aging process. Teeth do wear over time and become more brittle, making them increasingly susceptible to fracture. A previous root canal treatment on an aging tooth might also increase the fracture risk. To avoid this, it's important for the tooth to receive a crown after the procedure to protect the tooth not only from re-infection but undue stress during chewing. In some situations, we may also need to place a post with a bonded composite buildup within the tooth to give it extra support.
Even if a tooth has these or similar complications, a root canal treatment may still be advisable. The benefits for preserving a decayed tooth often far outweigh the risks of re-infection.
If you would like more information on root canal treatments, please contact us or schedule an appointment for a consultation. You can also learn more about this topic by reading the Dear Doctor magazine article "Root Canal Treatment."